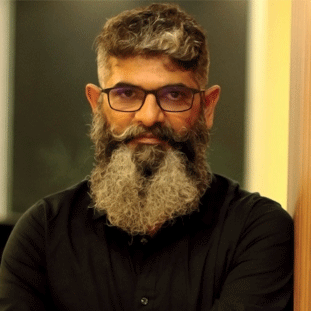 Atul Thakkar, Founder & CEO
As the 'War for Talent'aggravates and organizations battle to stay ahead of digital transformation, the HR departments are exploring a new avenue to augment employee value proposition, which has long become the driving factor of businesses. Even during the last year's Diwali, the entire corporate world in India was confronted by the challenge of selecting the right gifts for the employees, perceiving that a mere sweet box won't work anymore! But the clients of Happyperks, a hightech Employee Rewarding & Recognition platform, had a different stress-free experience altogether, as all they had to do was top-up the employees' Happyperks Cards with generous funds after which employees could select perks/gifts of their choice from online/offline marketplaces with complete freedom.
Happyperks' advanced and revolutionary employee rewarding solutions, along with its comprehensive, all-in-one, single-click, and an user-friendly online platform for corporate employers & employees, and the HR management for effective perk distribution bestows employees with the happiness of treating themselves in their own terms. "When we say freedom, we really mean it! We encourage employees to use the Happyperks' Prepaid card powered by MasterCard, without any restriction, at any online/offline outlet or through the online Happyperks' portal," asserts Atul Thakkar, Founder & CEO, Happyperks.
Quite unlike its peers, Happyperks' overarching portal also allows full-fledged HR management using modern rewarding systems like e-wallets, maximum budgets utilization, and lot more innovative tools that boost employee engagement. Unsurprisingly, such unique conceptualization has catapulted the company to emerge into one of the fastest growing startups in the country. The credit goes to its constant efforts invested in onboarding 1000+ vendors within a couple of years from its inception, with brands from a vast horizon ranging from Beauty & Fitness to Entertainment, Health & Wellness, Food & Beverage, Spas & Hotels, and whatnot. Yes, there is something for everyone!
A Great Business Model
Some of its prestigious vendors include Oye! Amritsar, Just Books, Cream Stone, Escape Room, Oyo Rooms, The Four Fountains Spa, Toni & Guy Hair Salon, Zeven, and Zest Fitness Studio, Onn Bikes, among others. Employees can exploit all the discounts and offers of their choice at these exclusive outlets and Happyperks incentivizes them over and above, based on their spending. In fact the way its initial business model worked and the number of corporates it could reach left even the thought leaders of the company surprised. They were able to implement the feedback with agility, learned on-the-go, and today have built a business model that is nothing short of–fantastic!
Established in 2016, Happyperks was launched right into the competitive Indian gifting market which was lacking this epoch's
high-tech enabled solutions, despite its whopping Rs.250,000 crore worth (Corporate & Personal Gifting Market combined). "We, as a team, believe in providing the best rewarding system for employees who work hard and contribute to the growth and performance of the company, which is why Happyperks was founded; to enhance employee recognition with an advanced rewarding system leveraging avantgarde technologies," adjoins Atul.

"We encourage employees to use the Happyperks' Prepaid card powered by MasterCard, without any restriction, at any online/offline outlet or through the online Happyperks portal"

A Cutting-Edge for Employee Value Proposition
However, rewarding employees the right way, while maintaining the distinct dynamics of company costs, cost management, reduction, and a lot of other facets is quite a herculean task. Happyperks facilitates its clients to accomplish that remarkably easy by sticking on to simple strategies that predominantly revolve around performing meticulous research on the lags & gaps in the market and bridging those gaps using its home-grown digital solutions. The team's hard work, dedication, and the 'never-give-up attitude towards a good cause' have been paid-off generously, as Happyperks today makes corporate HRs/employers and employees lives much happier! No wonder, the company has made it into the top-layer of corporate employee rewarding food chain.

"We have observed the advantages of rewarding and recognizing corporate employees the 'Happyperks' way, and the improved productivity it brings to the company/business," proclaims Atul. Improving employee retention, reducing recruitment & training costs and keeping the overall working vibe in the corporate workspace positive are crucial to the survival, growth and in turn, success of every company in its respective space, and that's precisely what Happyperks aims to achieve and continue achieving.

Going Ahead, with Confidence
Though the journey has just begun for the company, Happyperks has already sketched a bold plan to further revolutionize the corporate employee rewarding sector and make it more efficient, quick, and simpler. With the overwhelming acceptance, the company is currently in the process of building its existing R&R employee engagement revenue model to incorporate more employee-friendly rewarding and recognition methods. Happyperks' improved cutting-edge business model that's expected to be operational without much delay, and will also focus on significantly improving perks' distribution in companies beyond all norms.

For an organization like Happyperks, which has already carved a niche for itself in the competitive employee rewarding solutions market, preserving its own house with a pristine milieu inside is a matter of pride. This indeed is lucid in its workplace that boasts of extremely positive and happy work culture, ensuring to keep its employees motivated, satisfied, and above all, happy with their work and working environment in the company. Simultaneously, the strategic and methodological training ascertains that they stay relevant to the dynamic market. The in-house HR training and performance improvement programs in place are proven to be continually
improving the productivity and efficiency of Happyperksians.

Making its Ecosystem Bigger
En route to a great journey ahead, this innovative company is in discussions with over 50+ corporates who have already recognized the potential of this unique platform, well before Happyperks opening its marketing wallets. Its revenue growth, which has been steadily and continuously on the rise ever since its inception, is yet another excellent omen for the company to pursue the same track. "In the long run, we are building our very own marketplace with niche products sourced from different parts of the world. That's the future," concludes Atul.

Key Management:
Atul Thakkar, Founder & CEO
Atul is a commercially astute, performance-driven, goal-oriented Operational/Business Development Manager possessing a vast and diverse wealth of expertise accumulated over the years by working across different roles and employers. This IT Design professional has an exceptional track record in the delivery of significant and measurable value within all roles undertaken, through a combination of business acumen, with stakeholder management proficiency. Atul exhibits his prestigious wisdom through Happyperks.

"Though the journey has just begun for the company, Happyperks has already sketched a bold plan to further revolutionize the corporate employee rewarding sector and make it more efficient, quick, and simpler"

Happyperks in Spotlight:
Happyperks' Platform is a comprehensive, all-in-one, single-click, and an user-friendly online platform for corporate employers & employees, and for the HR management to efficiently distribute perks to their employees.

For Employers:
•Real-time employee management
•One-click distribution
•Management insights about employees
•Maximum budget utilization
•Saving on vendor's budget
•Power to motivate& ignite the passion for performance
•Keeps the overall working vibe in the corporate workspace positive to improve employee retention and reduce recruitment & training costs, among countless other benefits

For Employees:
•Helping employees savor their perks with complete freedom
•Track & manage perks
•A perk for every employee
•Maximum utilization of perks
•Maximum budget utilization
•Real-time motivation
•Tax-savings benefits
•Easy expense reimbursement
•Tie-ups with 1000+ vendors across the verticals including, but not limited to, Oye!Amritsar, Just Books, Cream Stone, Escape Room, OYO Rooms, the Four Fountains and Spa, TONI&GUY Hair Salon, Zeven, and Zest Fitness Studio


Awards & Recognition:
•'Fastest Growing Start-up' by Silicon Valley - November 2018
•Shortlisted for 'Fastest 30 Asia Companies', 2018

Quick facts:
•Date of Establishment: 2016
•Office: Bangalore
•Offerings: Employee Rewards & Recognition Solutions