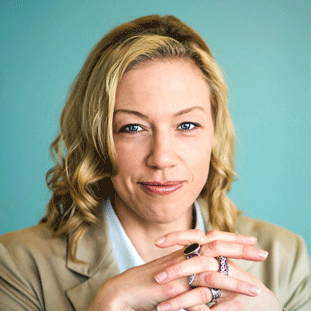 Jasmin Waldmann, Founder
If you have ever watched the movie Good Will Hunting (1998), you could never forget Sean Maguire (played by Robin Williams), the 56-year-old Caucasian professor, who turns around the life of a genius, but wayward youngster (the protagonist) by finding the key to his mind and his heart. Everyone could use a Sean Maguire in their lives to discover who s/he actually is and in turn evolve in life with self-understanding.
Rebelling the norms of predefined life coaching paradigms by doing a 'Sean Maguire' to the entire corporate realm and individuals to change, transform, and become the best version of themselves is Jasmin Waldmann - a savior, and an award-winning & one of the best international life coaches you will ever know. So as how Sean Maguire was inspired by his own past in the movie, Jasmin is also inspired by the vagabond & cultural vividness inside her, her professional experiences, and the multi-skill trainings she had undergone over the years. Jasmin, through Jasmin Waldmann Life Coaching Company (JWLCC), today turns around the life of thousands of people as well as the ethos of hundreds of corporate organizations through a holistic approach including Life Coaching, Meditation, Fitness, and Diet Consultancy.
The Vagabond Turns into a Life Changer
Jasmin's story is as inspiring as a feel good movie. The young German who pursued her passion of travelling and backpacked around the world and across the continents, Jasmin came-out as a unique person of cultural blend altogether, and with the way she could win the battles in her own mind into becoming the true version of herself, she wanted to help others to achieve the same. Hence, she decided to write a book: Change Me. "As I had started writing many years ago, I needed to learn how to become an author. Thankfully, I predominantly received great critics for Change Me. That means many people benefit from the book – which is why I wrote the book," asserts Jasmin.
The book 'Change Me', which tells the story of dramatic changes in an investment banker's life with an incident of self-understanding, inspired not only the readers to discover themselves and listen to their souls, but also Jasmin to think beyond the limits and become an entrepreneur, professionally implementing the thoughts in the book. But proactive preparations were inevitable to give life to her dream.
The determination propelled her through multifarious coaching courses ranging from NLP, Systemic & Gestalt therapy to Group & Personal Training, Pilates Teacher, and even lifestyle courses like Diet Consulting, and Sports & Health (Diploma. Equipped with huge experience & vast knowledge, Jasmin chiseled herself into a complete leader, back-lifted by several entrepreneurial grooming she had undergone in Sales (three years)
and Accounting (one year, in addition to sales training), not to mention her self-studies in meditation and traditional Chinese medicine. In the year 2008, Jasmin established JWLCC with a vision to serve corporates as well as individuals & celebrities based on their well being, self-leadership, public speaking, stress management, intercultural diversity, and appreciably more.

"Equipped with huge experience & vast knowledge, Jasmin chiseled herself into a complete leader, back-lifted by several entrepreneurial grooming she had undergone in Sales and Accounting"

Unlearning the Ready-Made Concepts
The textbook-based training might improve skills, but to bring-out the best, most amazing versions of people, it takes giving-up the ready-made concepts in the drawer. This is exactly where JWLCC excels in by going deep into the minds of people as well as getting into the details of the corporate structure.

"When agreed working with a corporate client, we first learn all about the company, before customizing programs accordingly. It's not the big world that entails a change, but often the little things like interrupted work-life balance, unsynchronized leisure time with the family & friends, and bad eating habits that adversely affect the stress," adjoins Jasmin. This is where people become desperate for a Sean Maguire-effect. Jasmin, with decades of experience and a strong team on her side, engenders this effect and helps people find solutions from within themselves through one-to-one sessions or training setups in corporate houses.

"India was once very spiritual with a better number of Ashrams and Meditation Centres. I don't really need to bring out new things, but rediscover the values that lie beneath this country and implement them through a different approach," she adds. The company also provides several workshops with particular projections; for instance JWLCC offers special work-life balance workshops for making the businessmen's lives easier.

The Increasing Opportunities
Today, the subcontinent is starting to discern life coaching as a helpful service, understanding that coaching isn't for people who actually need a shrink (Psychologist) but want to become even better than they already are. More people want to be their own bosses, rather than identifying themselves with corporate brand names or family name & reputation. This opens-up a plethora of opportunities for an initiative like JWLCC, especially in the corporate sector. Under the aegis of Jasmin, JWLCC is well on track to leverage the favorable milieu. Its whopping 300 percent growth over the past two years stands as a strong testament.

"We are people who work for people, and treat them as such. All of us at JWLCC love to travel & meditate and share the values of constant learning and development. This is lucid in the work we deliver and the services we provide," elucidates Jasmin, who loves her teammates just like the members of one big family. The Indo-German work-culture binds them even closer to the tune of giving everybody equal voice and helping each other even in their private life. "I walk my talk as a leader. I take care of my people and in return, they take care of
me," she adds with a bright smile on her face.

More in the Pipeline
When shared, success always looks brighter and JWLCC continues to pursue this culture with focus on people's wellbeing, intercultural diversity and leadership training. Having on-boarded a strong team of specialists, the company has recently commenced a new project – group courses (max. 20 people, instead of individuals) that aim six weeks of development, happiness, and lifestyle change, and eventually – ultimate transformation just like the theme of 'Change Me' (the only difference will be the group, instead of an individual). En route to the future, Jasmin once again indulges in writing, with her second book expected to see lights by the end of 2019 while another two are being already authored in her mind.

"Under the aegis of Jasmin, JWLCC is well on track to leverage the favorable milieu. Its whopping 300 percent growth over the past two years stands as a strong testament"

Key Management:
Jasmin Waldmann, Founder
The German Life Coach & a born traveller, Jasmin currently lives and works in Gurugram, India, supporting people to live their life to the fullest. She is a Happiness Guru and a Mind, Body, and Transformation Expert.

Spotlight:
•The presence of an award-winning relief provider, and one of the best international life coaches – Jasmin Waldmann

•Jasmin's impeccable qualifications & experience including:
oNLP, Systemic & Gestalt therapy
o Group & Personal Training
o Pilates Teacher
o Diet Consulting
o Sports & Health (Diploma)
• She also boasts of self-studies in meditation and traditional Chinese medicine.

Quick Facts:
Year of Establishment: 2008
Offices:
New Delhi (Headquarter) & Cologne

Upcoming offices:
Goa & UAE

Offerings:
• Corporate Coaching
• Key Note Speaker
• One-on-One Coaching
• Celebrity Coaching

Awards & Recognition:
•'Simply Unstoppable Woman Entrepreneur – 2018' by BMW Deutsche Motorenwerke
•'Exceptional Women of Excellence Award'at WEF 2018
•'Iconic Women Creating a Better World for All – 2017' by All Ladies League & Women Economic Forum
• Award for 'Contribution to the Education of European Fitness Professionals – 2015'by GRAFTS Hellas

Client Talks:
"Coaching with Jasmin is an experience. It is an amalgamation of psychology, self-analysis, taking action, and reaching your goals. Through this process, you can learn about your self, and through understanding about yourself, you can learn about the people around you. It is an overall mind and body improvement that you will gain from this experience. You get what you put in, highly recommended to all!"

- Shubhra Sharma, Business Analyst, American Express Global Business Travel